MARKS A SIGNIFICANT STEP IN THE JOURNEY OF EXPANDING THE OPPORTUNITIES TO ACCESS HIGH-QUALITY EDUCATION FOR VIETNAMESE STUDENTS
[HCMC, December 5, 2022] – Today, EQuest Education Group ("EQuest") and Khoi Nguyen Education Group ("KNE"), the owners of the Canadian International and Bilingual school system with four member schools in Ho Chi Minh City, including Canadian International School (CIS), Bilingual Canadian International School (BCIS), Albert Einstein School (AES), and Canada-Vietnam Kindergarten (CVK), signing the strategic cooperation agreement, under which, EQuest will become the key shareholder and join the Board of Directors of KNE.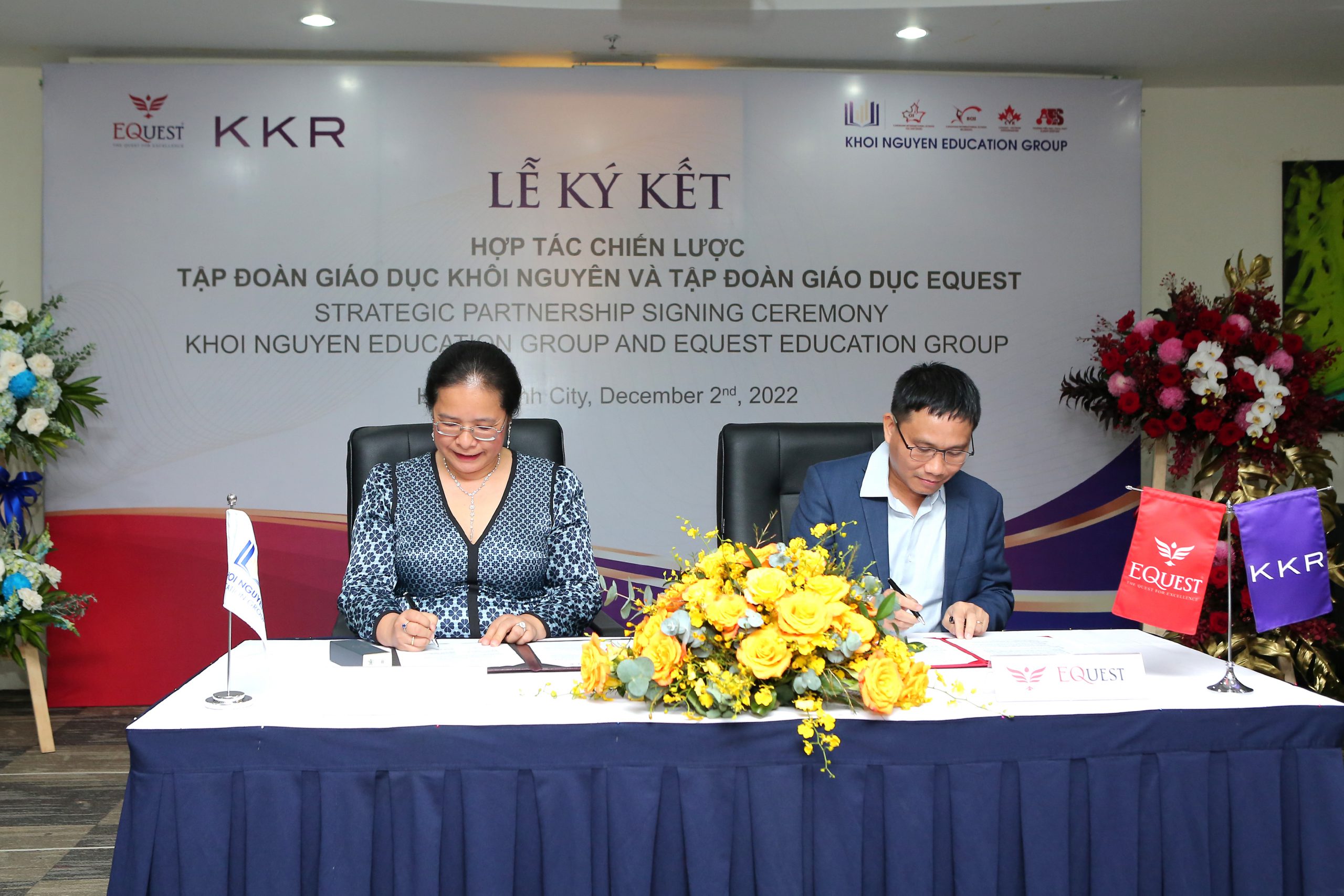 "The successful cooperation between KNE and EQuest is the result of a very long working process between leaders of both sides to understand, share common core values, and unify strategic direction. For KNE, this is a very important milestone after more than 10 years of being in operation that starts a new chapter for its member schools in the application of modern educational technology (EdTech) platforms, advancing and diversifying educational programs, as well as continuing to develop strongly in both quantity and quality," stated Ms. Nguyen Thi Kieu Oanh, Co-Founder and General Director of KNE Group.
Dr. Nguyen Quoc Toan, Co-Founder, Chairman, and CEO of EQuest Education Group, said, "We will always respect and preserve KNE's existing values, as well as the enthusiasm of the founders and team to further develop Vietnamese education. The primary goal of this strategic cooperation is to help transform CIS, BCIS, AES, and CVK into the most prestigious and most trusted international and bilingual school system in Ho Chi Minh City and the southern provinces."
"In the process of cooperation, interests of students, teachers, and employees are always our first and most important priorities," announced Dr. Dam Quang Minh, President of the K-12 Division of EQuest Group.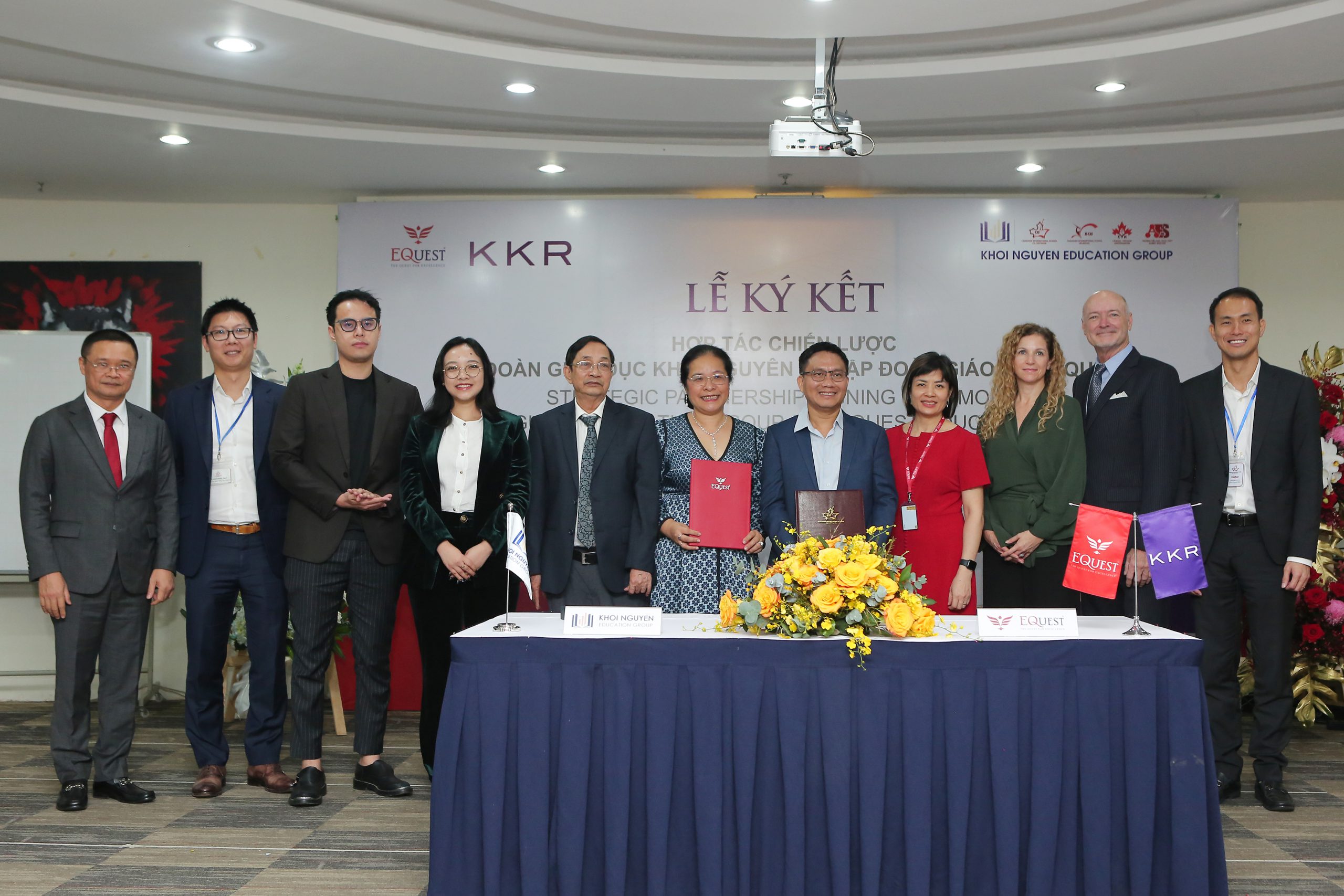 The signing event for the strategic partnership took place on December 2nd, 2022, and involved participation by representatives of KKR, which invested in EQuest in May 2021 through its Global Impact Fund as part of its thematic focus on Lifelong Learning.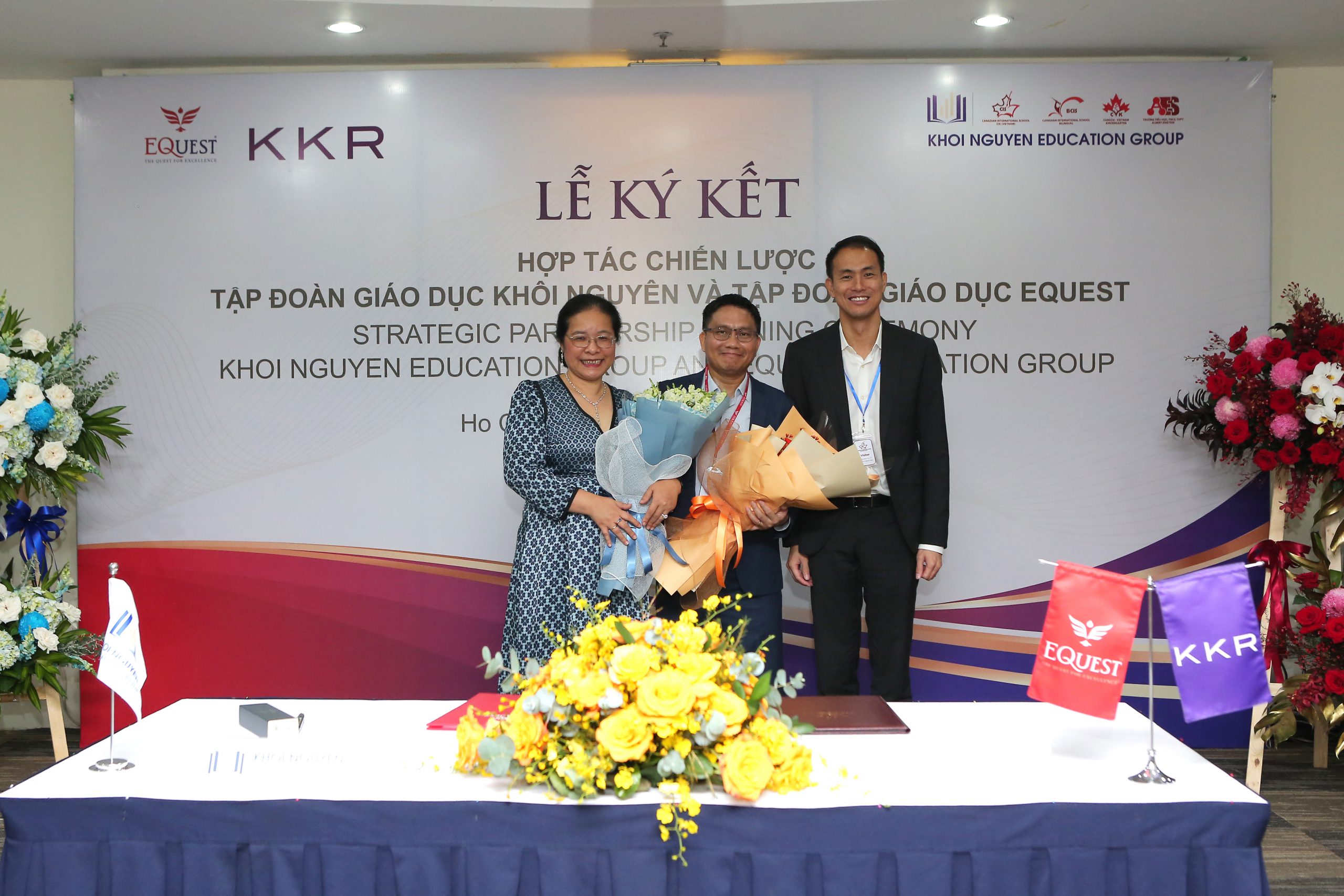 Owning four famous international and bilingual schools in Ho Chi Minh City with more than 3,000 students from kindergarten to grade 12 (K-12) and the most modern facilities system in Vietnam, KNE Group is currently the first and only private educational institution in Vietnam to provide the K-12 educational programs of Ontario Province (Canada), under the advisement and quality supervision of the Toronto City Department of Education, Canada's largest public education department and the fourth largest in North America. CIS was accredited by the prestigious International Baccalaureate (the IB) in 2015 and is now an official member of the Council of International Schools.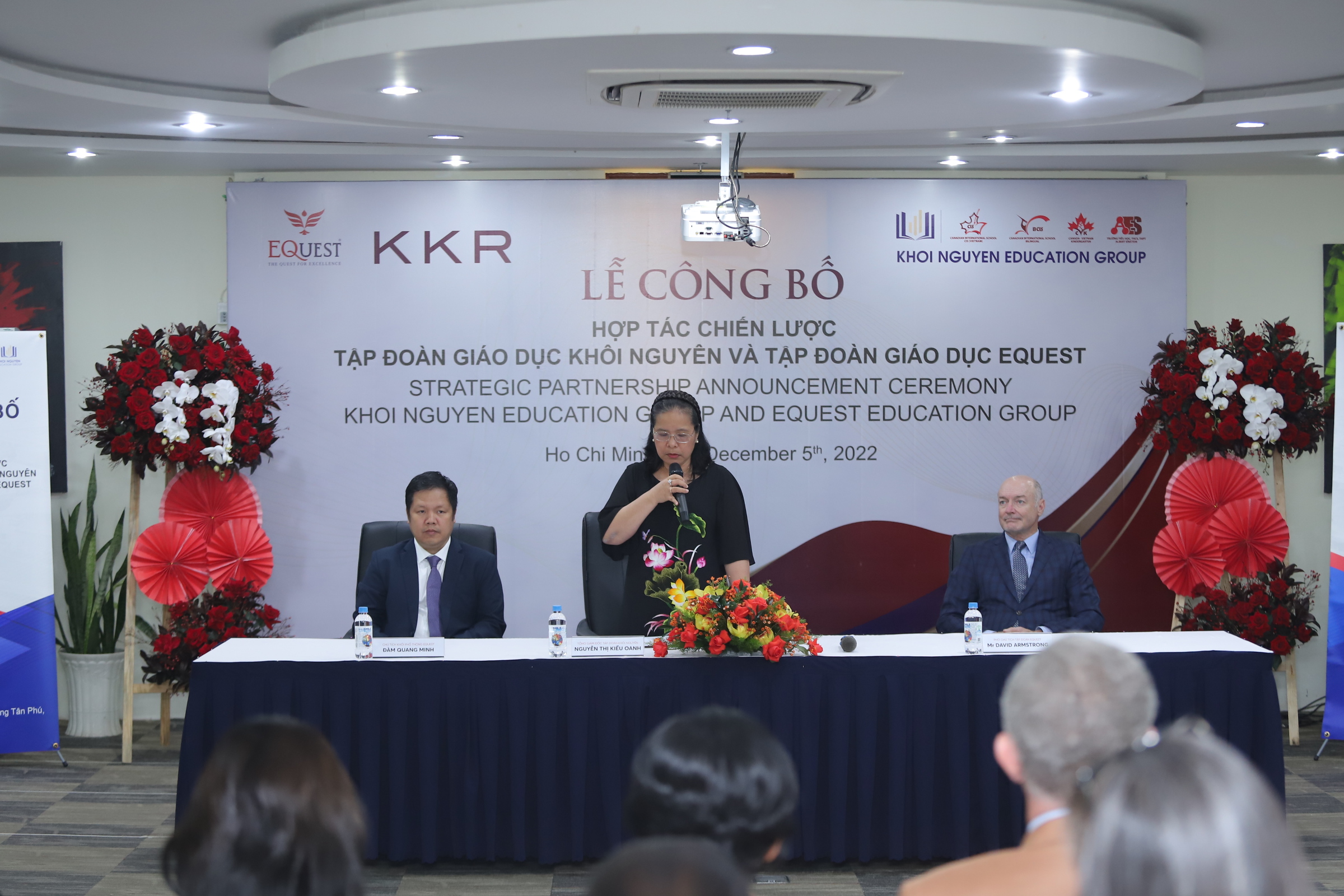 With a holistic and integrated education ecosystem, students of EQuest and KNE will be able to benefit from enlarged resources and advantages, as well as domestic and international cooperation relationships, thereby enhancing the quality of learning outcomes for students aiming to study at top universities in Vietnam and internationally.
EQuest and KNE will share financial resources, best management practices, exchange teaching resources, technology platforms, and development experiences from the top schools in the two systems. Furthermore, students of the two systems have more opportunities to access and experience world-class training programs.
In accordance with the strategic partnership agreement, representatives of EQuest will be appointed to the board of directors of KNE, including Dr Nguyen Quoc Toan, Dr. Dam Quang Minh, Ms. Annabelle Vultee, and Mr. David Armstrong.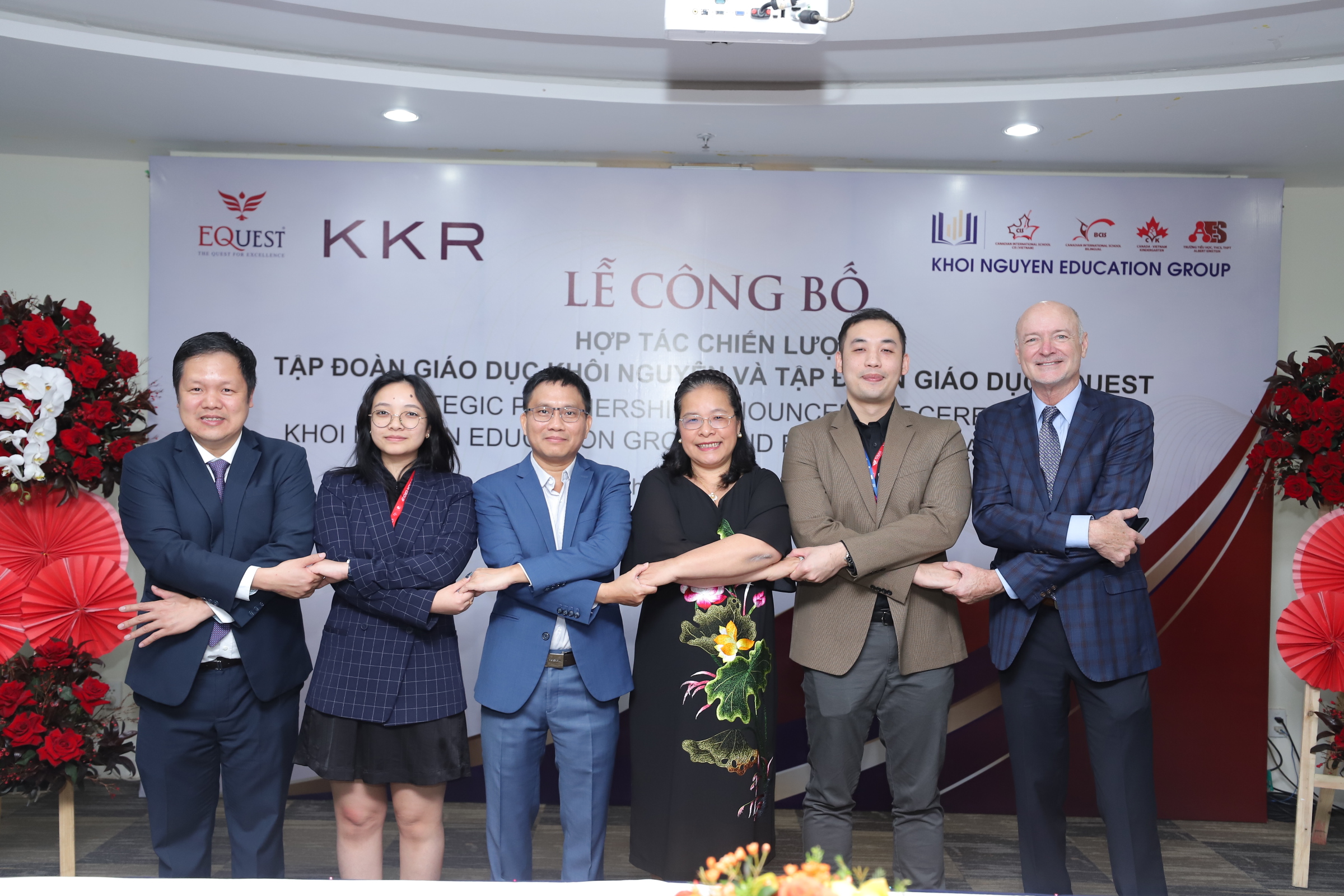 As the first educational group in Vietnam being accredited by Cognia (US), the world's largest educational technology and K-12 accrediting organization, EQuest will apply Cognia accreditation at CIS, BCIS, AES and CVK, in addition to fully meeting the existing accreditation standards of the IB. Students under CIS, BCIS and AES systems will also have options to study with American curriculums and AP courses. In addition, they will be well equipped with necessary preparations to successfully apply to top universities in the US and the world.
By becoming a key shareholder of KNE, EQuest will increase the number of unit members under the K-12 Division to 16 schools in all 3 regions of Vietnam: North, Central, and South.
—————-
Khoi Nguyen Education Group (KNE)
Established in 2010, KNE is currently the owner of the Canadian International and Bilingual School System with 4 member schools in Ho Chi Minh City and 3 professional education service companies. The whole system has more than 3,000 students and about 700 teachers and staff. KNE's member schools include: Canadian International School (CIS), Bilingual Canadian International School (BCIS), Albert Einstein Elementary – Middle School – High School (AES), and Canada-Vietnam Preschool ( CVK).
Apart from Canada's Ontario program, which has been implemented since 2009 with 10 generations of students graduating with the Ontario Baccalaureate Diploma (OSSD) at CIS, KNE offers additional IB programs, including IBDP(since 2015), Victoria High School (VCE since 2020), British High School (IGCSE since 2021), as well as a high-quality bilingual program based on the Vietnam Ministry of Education and Training (MOET) curriculum.
The Canadian International School (CIS) was accredited by the prestigious IB in 2015 and is now also an official member of the Council of International Schools.
Students from KNE have won numerous awards from domestic and international competition. About 80% of students graduating from the system go on to study abroad at prestigious universities around the world, mostly in Canada, the United States, the United Kingdom and Australia.
More information at: https://www.khoinguyenholdings.edu.vn
EQuest Education Group ("EQuest")
EQuest Education Group is one of the largest private educational institutions in Vietnam with more than 130,000 students in an ecosystem from K-12 to colleges, universities, and educational technology (EdTech) across the country.
EQuest's K-12 members include prestigious inter-school systems such as Alpha School (Hanoi), Hanoi Primary School for Educational Technology, Happy School (Vung Tau), Newton Grammar School system (Hanoi and Vinh Phuc), Hanoi Star Education system, and St. Nicholas (Da Nang).
EQuest's K-12 students have collectively won more than 6,000 awards in the academic year 2021-2022, including 2,050 international awards, 2,038 national awards, and 1,960 district and city awards.
EQuest's system of colleges and universities includes Vietnamese American College (Hanoi and Ho Chi Minh City), Broward College (an American college with campuses in Hanoi and Ho Chi Minh City), Saigon Polytechnic High School, and Phu Xuan University (Hue). iSMART Education, MegaSchool, and MegaTest educational technology systems provide technology solutions for learning English, Math, and Science, with hundreds of thousands of digitalized lectures and testing platforms for more than 500,000 students nationwide.
In June 2022, EQuest Education Group achieved comprehensive quality accreditation by Cognia, the largest US-based accreditation body in the world.
More information at: https://equest.vn
For further information, please contact
EQuest Education Group:
Ms. Tran Thi Thu Thuy, Director of Government Affairs, PR – Communications Division
Phone: 090 410 0122
Email: thuthuy.tran@equest.vn
KNE Education Group
Ms. Trinh Quang Dong Thao, Deputy Director in charge of Communications, External Relations and Human Resources.
Phone: 091 995 4040
About New BOD and BOM
Dr. Nguyen Quoc Toan
Dr Toan is Co-Founder, Chairman of Board of Director cum CEO of EQuest Education Group. Under his leadership, EQuest become one of the biggest Education groups with the ecosystem from K12 up to University and Education Technology.
Dr. Nguyen Quoc Toan is a businessman and an expert on education, strategic advocacy and Finance. He is also a commentator on Education, Political Economy and Business.
Dr. Toan used to be a partner and leader of business consulting (strategy, mergers, acquisitions, valuation, and business review), at EY Vietnam Group. EY is one of the four largest global auditing and consulting firms (referred to as the "Big 4"). He is also the co-founder of TNK Capital, a reputable company in the field of financial consulting. Then TNK Capital was merged with EY Vietnam. Dr. Toan used to work in the stock industry. After having a PHD degree, he worked as an economist for the Asian Development Bank and he did an internship at the International Monetary Fund.
Dr. Toan holds a Ph.D. degree in Economics from New York University, USA, a Master's degree in Economics from Hanoi National Economics University, and a Bachelor's degree in Business from Edith Cowan University, Australia. He was also a student of Hanoi-Amsterdam Gifted High School.
Dr. Dam Quang Minh
Dr. Minh is Chairman of the K-12 School System Division, responsible for strategic planning and development of EQuest's K-12 schools system nationwide.
Joining EQuest since 2016, Dr. Minh Dam has served as President of Phu Xuan University, a member of EQuest's College & University System. Before he was the President of Thanh Tay University and FPT University. He was also one of the leaders who plays a key role in the development of FPT High School and FPT College. Dr. Minh Dam is known as a leading expert in restructuring and innovation in higher education.
Dr. Minh holds a Bachelor's degree in Science (Honors Program) from the University of Science, Hanoi National University. In 2007, Dr. Minh received his Ph.D. degree in Earth Science from The University of Greifswald, Germany.
Ms. Annabelle Vultee
Ms. Annabelle Vultee is an Executive Expert in Education. She is also Chief Operating Officer of EF Education First's in China. Education First is one of the world's largest private education organizations headquartered in Switzerland. Over seven years in China, she led thousands of employees to apply an innovative, customer-oriented and sustainable business model.
Before that, Annabelle served as President of EF's Explore America division; a leader in US domestic educational travel for middle and high school students. She has also served as Chief Operating Officer of AirShares Elite, a shared aircraft ownership company.
Annabelle holds a B.A in Native American Studies from Colgate University, one of the top liberal arts universities in the US and an MBA from Harvard Business School.
Mr. David Armstrong
Mr. David Armstrong is president of Ivy Global School, an accredited online school located in Florida, and president of the Colleges and Universities Division of EQuest.
J. David Armstrong, Jr. has more than 35 years of experience in leading in higher education, economic development, community service and leadership development at Federal and State level in the USA. David Armstrong is a former president of Broward College in Florida with over 10 years of leading Broward College to become one of the most successful community colleges in America. He was also in the position of senior manager (equivalent to deputy minister) of the College and University System in Florida. He used to work as an executive search consultant for college boards; a former chairman for the Greater Fort Lauderdale Economic Development Alliance; and a former vice chairman of Leadership Organization of Florida.
He earned his B.A. degree from the University of Montevallo in social sciences; M.S. in Management from Troy University.